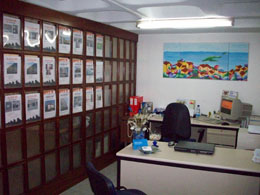 Welcome to MEGACIDADE
The company was created in 2006 to expand and diversify its area of activity.
Until then we were dedicated exclusively to the Leasing and the Administration of leased property, building a strong portfolio of customers over some 20 years.
By demand of our own clients MEGACIDADE- Mediação Imobiliária Unipessoal, Lda, was constituted.
Currently we have increased our portfolio of clients, the majority was indicated by others using our services and approved, what is an example to prospective clients.
We continue to invest in the leasing, it still is the largest turnover of the company, in conjunction with the administration of the leased property.
Thus we offer the following services:
* RENT / LEASE
* ADMINISTRATION OF RENTED PROPERTY
* BUY / SELL PROPERTY
* PROPERTY COUNSELLING FOR INVESTORS, FOR THE MARKET OF THE LEASING
* PROPERTY MANAGEMENT AND TAX ADVICE
* ADMINISTRATION OF CONDOMINIUMS
As we continue to be a small company, our contact is personal.
We await your contact.